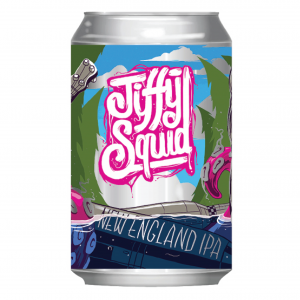 Mornington Peninsula Jiffy Squid NEIPA
India Pale Ale from Mornington Peninsula Brewery — 4.9% ABV
Fat, juicy and so very hoppy, Jiffy Squid is our take on a New England IPA.
Jiffy Squid New England IPA has arrived in can as Mornington's latest #tinnage release, thanks to the huge push from NEIPA fans demanding it.
Jiffy Squid was originally brewed in early 2017 by Mornington as a keg-only release, but as the popularity for the hazy style grew, so did call for Squid cans.
The hazy latte-colour of the beer, which to the unexpecting can be quite confrontational, is deceptively packed full of flavour. With All the floral and fruity aspects of an IPA without the bitterness makes Jiffy Squid a perfect Spring-time quencher
Available in 330mL can
Price
Click & collect
3 easy steps
Select your products and add them to your cart
Choose the 'Pick-up in store' option at checkout
Await a message from us to let you know when your order is ready