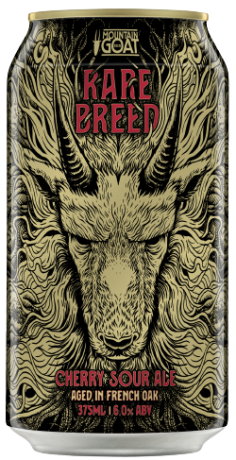 Mountain Goat Rare Breed Barrel-Aged Cherry Sour
Sour from Mountain Goat — 6% ABV
For our final Rare Breed of 2021 we pulled out all the stops with this Barrel Aged Cherry Sour Ale.
Wandin Valley dark cherries were aged in French-oak Pinot barrels from the Adelaide Hills. Late in the process we loaded them up again with a mix of sour and dark cherries.
Then we waited. Then we waited some more.
The result? A very soft and delicate cherry sour ale with no bullshit.
Tame acidity lets this beer shine as a well-rounded gift, rather than a Brettanomyces wet fish to the face.
Available in 375mL can
Price
Click & collect
3 easy steps
Select your products and add them to your cart
Choose the 'Pick-up in store' option at checkout
Await a message from us to let you know when your order is ready