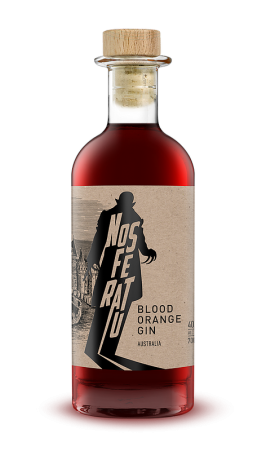 Nosferatu Blood Orange Gin
Gin — 4% ABV
Its love at first bite with when you succumb to the sweet aromas of orange and spice in this oh-so-heady gin. As a true cult classic, our delicious, viscous gin punches above its weight. Oh, and theres just a little bite at the end.
Nosferatu Blood Orange Gin.
​
Nosferatu Blood Orange Gin is lovingly distilled, under the cloak of darkness, in 'The Schreck', a coffin-shaped pot still (believe that if you will) in a dusty old South Melbourne cellar.
With its distinctive red hue, Nosferatu Blood Orange Gin is delicate, yet packs a punch with botanicals such as Albanian juniper berries, blood orange peel, fresh navel oranges, dried orange peel, roasted fenugreek, coriander seeds, cardamom seeds, wormwood and angelica root.
Nosferatu Blood Orange Gin. A true cult classic. You know you want it.
As with all classics, treat it with respect. Fill a Copa de Balon with the best ice you can find, add a generous nip of Nosferatu Blood Orange Gin, top up with a quality tonic and finish off with a sliver of blood orange. Cheers.
Available in 700ml bottle
$79.99
Click & collect
3 easy steps
Select your products and add them to your cart
Choose the 'Pick-up in store' option at checkout
Await a message from us to let you know when your order is ready